Advertise your business at SYC
Want to advertise your business to hundreds of local customers?
Hang your banner at SYC in Colonial Heights!
We have over 300 member families who will see your ad daily and hundreds more families from surrounding areas (Petersburg, Chesterfield, Hopewell, Prince George, Dinwiddie) come as guests during the day and to swim meets!
SYC has been a part of Colonial Heights since 1966. We partner with the Department of Parks and Rec to offer senior citizen water aerobics, Special Needs camp water experiences, and Dive-in Movie nights. Many of the youth of Colonial Heights spend long days and evenings at SYC while being provided with a safe place to hang out.
Help sponsor this great institution while spreading the word about your business!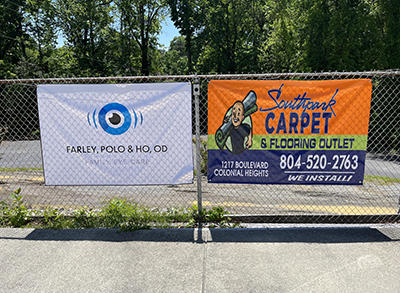 Bring us your banner or have us make one for you.
Costs:
Provide your own banner - $400/summer
Have SYC make a 4'x6' banner - $500/summer
Yes, I'm interested!
Send an email to Debbie Polo dlpolo101@gmail.com with the following information:
Name
Business
Email address
Whether you will provide your own banner; or
you want SYC to make the banner.

Artwork should be in a pdf file and high quality enough to be enlarged. Email artwork to dlpolo101@gmail.com.
Checks made out to "SYC".