Pool phone:
804-526-3578
Email the pool:
info@chsyc.com
Hours of Operation -
June 8 to Labor Day
Monday thru Friday
9:00 a.m to 9:00 p.m.
Saturday
10:00 a.m. to 9:00 p.m.
Sunday
12:00 p.m. to 9:00 p.m.
SYC is a smoke/vape/alcohol free facility.
2020 SYC Operating Procedures
SYC is open!
Due to delayed opening annual dues will be $320 for a family and $235 for single membership for the 2020 season.
Through June 30, 2020:
Hours of operation will be 9 a.m. – 9 p.m. on Mon – Sat and 12 p.m. – 9 p.m. on Sun.
Because of the restriction to operations due to COVID-19 the following procedural changes have been put in place.
Reservations to swim
You must make a reservation to swim at SYC.
We will be using Sign Up Genius to facilitate sign ups, link below.
As of June 8, members may also call the pool (526-3578) during pool hours (9 am – 9 pm) to make a reservation.
The main pool will be sectioned into four areas:
- ½ of shallow end with ¼ of middle section (L-shape) - Shallow End 1
- ½of shallow end with ¼ of middle section (L-shape) - Shallow End 2
- ½ of deep end with ¼ of middle section (L-shape) - Deep End 1
- ½ of deep end with ¼ of middle section (L-shape) - Deep End 2
The baby pool will be a fifth area.
There will be a lap swimming lane down the middle of the pool all day.
Each section will accommodate up to 12 people, the baby pool section will accommodate 5 people and the lap lane will accommodate 3 people.
Members can sign up for a 3-hour time slot at any one of the four areas or baby pool.
Lap swimming will be signed up for in 1-hour increments.
Each membership may initially reserve three 3-hour time slots per week (Monday – Sunday).

Additional time slots may be reserved, if the slot remains available, one hour before the time slot begins. i.e. the 3-6 pm slots may be reserved, if still available, starting at 2 pm.

Hourly lap swimming does not count as one of the three time slots allowed per week.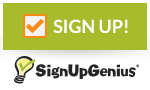 Phase 3 Guidelines - starting July 1, 2020
We will be working with 75% capacity of the pool facility which translates to 150 people.
The sectioning of the pool used during phase 2 will be removed.
Hours and Reservations:
Our weekday hours are returning to 10 a.m. - 9 p.m. while Saturday will remain 9 a.m. - 9 p.m. and Sunday 12 p.m. - 9 p.m. This will allow us much needed time on weekday mornings for maintenance of the grounds and cleaning of the pool
Monday thru Friday, we are discontinuing SignUpGenius. You may come anytime between 10 a.m. and 9 p.m. and stay as long as you like. We will still need to maintain our 150 person capacity but not with formal sign up.
Weekends - Saturday and Sunday, our peak busy days, we will continue using SignUpGenius in 3-hour blocks.

You will not be limited to how many blocks you can sign up for on either day. We ask that you be courteous to other members and be as accurate as possible in your sign up. Each block of time will have 150 slots available.

NOTE: we will be using SignUpGenius Friday, July 3 since it is part of the 3-day holiday weekend. See important information about the July 4th holiday here.
You do not need to sign up for Lap Swimming but it will only be available Monday - Friday.
Guests:
We are reinstating guests at $5 for the day or $2.50 after 5 pm on weekdays (except for July 3). We do reserve the right to limit guests in the future if we find demand exceeds our 150 person capacity.
Diving Boards:
Diving boards will be open but swimmers will need to maintain 6-foot distancing as they are waiting to use the boards.
Entering and Exiting SYC
Members that arrive early for their time slot, are asked to wait either in the car or in the bike area so that the entrance is clear for those leaving the pool.
A staff member will check you into the pool using the Sign Up Genius reservation system.
Members will be asked to verify that they aren't experiencing any COVID-19 symptoms upon arrival. If you are sick please stay home.
Age and Guests
Due to the importance of understanding physical distancing, children must be 14 or older to come to the pool without a parent/guardian. This is a one-season change and the age to come alone to the pool should return to 10 in future years.
To maximize use by our membership, we are not able to allow guests at this time.
Concession Stand
Concessions will be available all day serving chips, candy, ice cream and sodas. Sales will be conducted using contactless delivery. Of course, as in all years, you are welcome to bring outside food, just no alcohol.
Safety and Cleaning
Employees will be temperature checked each day when reporting for their shift.
Members are welcome to wear masks but they are not required since we are an outdoor facility.
Restrooms will be open and will be cleaned hourly. Where possible, we ask that members visit the restroom individually to reduce crowding since they are small spaces.
Please maintain 6 feet of physical distance.
All furniture used will be cleaned following each 3-hour block.
Hand sanitizer will be available.
Other information
The pavilion will be closed and parties cannot be scheduled.
Chairs will be spaced out on the deck for physical distancing with some clusters provided around tables for family groups. All furniture used will be cleaned following each 3-hour block.
There will be no shared equipment i.e. kick boards, lost/found goggles, noodles, beach balls, etc. Members are welcome to bring them for their own personal use but we do reserve the right to limit floats given the small areas of the pool.
The gaga pit, basketball court and volleyball court cannot be used until further notice.
In order to maximize your time in the water while at the pool, we will not be calling adult swims on the top of the hour.